---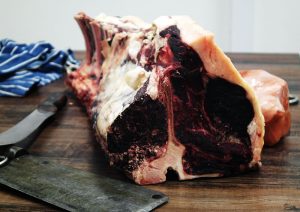 If you haven't tried our beef, then you're missing out.
The rare/native breeds that we farm produce the most fantastic flavoured beef. This is due to our traditional farming methods, compassionate animal husbandry and the ageing process carried out in our butchery.
All our cattle are rare or traditional breeds, with the majority being Longhorn, Shorthorn, Belted Galloway, Dexter, Aberdeen Angus, Hereford or Red Poll.
These breeds take longer to mature, and require extensive farming. However, the marbling this produces in the meat and the flavours on the palate are well worth the effort!
They have a grass-based diet, which is what cattle have traditionally consumed for centuries. This diet leads to a magnificent creamy-soft yellow coloured fat, which is high in Omega 3 oils. One of the lesser known health benefits of grass-fed, traditional breed meat is this high level of Omega 3 oils.
When the time comes, these cattle are taken to a local abattoir, avoiding the stress of a long journey. We have full traceability from the farm, through this slaughterhouse to delivery to the customer.
The bodies of these cattle are then hung in our maturation chiller, on the bone, for the specified amount of time required by individual customers. The carcases will then be cut into a multitude of products including steaks, roasting joints, burgers and primal cuts such as whole sirloins, fillets and rump and loins.
---